AUSTIN, Texas – April 20, 2009 — GradientD today launched version 2.0 of MapperActive, a customizable, touch screen friendly interactive map that helps conference exhibitors and attendees navigate an event's trade show floor. With MapperActive, conference attendees can optimize their vendor visits by planning their itinerary path prior to reaching an event via the web, and during the show via kiosks. MapperActive promises to change the way customers navigate events in general.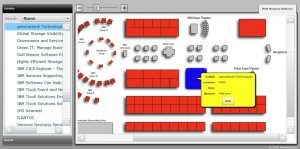 At the conference, users can pan and zoom to any area on the conference floor and then tap a location on a touchscreen kiosk to view detailed information about exhibits. Alternatively, users can tap on exhibits in a directory to reveal their location on the map. Remote users can access the same interactive map in a browser on the web.
The MapperActive interactive map was developed by GradientD, of Austin, Texas. According to Daniel James, president of GradientD, "Our goal is to provide an easy to use, affordable solution to help conference managers guide their attendees to exhibits and other items of interest on a show floor. Maps can be customized in a variety of creative ways. For example, they can be adapted for pre-show use to help exhibitors identify available booths they can reserve. With multiple methods to use the map, we provide our customers with the ability to view a map as it relates to their specific needs."
Jeff Rasco, founder and president of Attendee Management, Inc. and an industry expert in meeting and event management states, "Interactive maps are a critical piece of any conference or event with exhibitions or other components that attendees need to find. In our observations, while offering a responsive attendee experience, mapping technologies can be cost prohibitive. The MapperActive solution provides clients an easy-to-use, highly-customizable, interactive map starting at around $3,000. This is the first affordable and truly interactive map for conference managers and event planners we've seen – opening this capability to organizations that previously might not have been able to offer it."
MapperActive offers a customizable solution that is focused on a user experience that is clear and intuitive, and a user interface that is visually appealing. The product can be accessed either via the internet or via touchscreen kiosks.
About GradientD:
MapperActive is a product and service of GradientD, a general software development company based in Austin, TX. GradientD work products include phone applications, flash applications, web applications, custom java/c++/flex application development, instructional media, music and conference tools.
About AMi:
AMi provides customer-centric attendee management services including meeting and event registration, housing, and travel. We offer industry-leading technology, but we never forget we are working with people, not machines.